One of the most effective ways to grow your Twitter profile these days is to follow others. With this method, you can gain targeted, real followers, but you have to be prepared to keep track of your Twitter follow back balance. The follow back balance determines how good your Twitter account appears to people visiting it, and it also helps to measure your Twitter account's success in general.
You're probably wondering at this point; how can you improve your Twitter follow back balance? What does a good or bad follow ratio look like? What's the average in the industry? That's what we're here to talk about today.
What is Twitter Follow Back Ratio
When thinking about a growth strategy to help you get more followers on your Twitter profile, one common approach is to follow other accounts, with the expectation that they will follow you in return. It's the idea of reciprocity – someone will return the favor.
It is recognized by the social media marketing industry as a way to measure your success when it comes to Twitter and other social networks out there.
How to Measure the Twitter Follow Back Ratio
There is a simple formula that you can apply to let you know how many of the accounts you have followed are returning the favor and following you in return. Check it out below: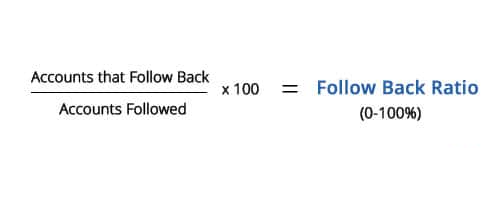 So, the higher the percentage that you can see above, the better. If you have a high follow back ratio, it means that your Twitter profile and your content is attracting the right people, and those people are regularly engaging with it.
Of course, you don't just want to look at the quantity. You need to consider quality as well as quantity. This means that if you have a high follow back count, but you're not attracting the right people for your content, then this is not going to do anything for your profile and you're not going to get anything from implementing this method.
If you're getting people following you all day, every day, but they're not the right followers for your content, then they aren't going to add any value to your account. This means that you can't just focus on adding followers to your account, you've got to think about how targeted they are.
Factors That Affect the Twitter Follow Back Ratio
Now that you know what the Twitter follow back ratio is, you can work out how to calculate it. However, you've also got to think about how you can strategize with it, so that you make it work for you. There are two different factors to think about here – on-profile factors and filtering factors.
Let's take a look at both.
On-Profile Factors
On-profile factors are anything that your potential followers can see when visiting your Twitter profile. This is anything from your profile picture and your cover image, to your location, bio, and your URL.
Profile Picture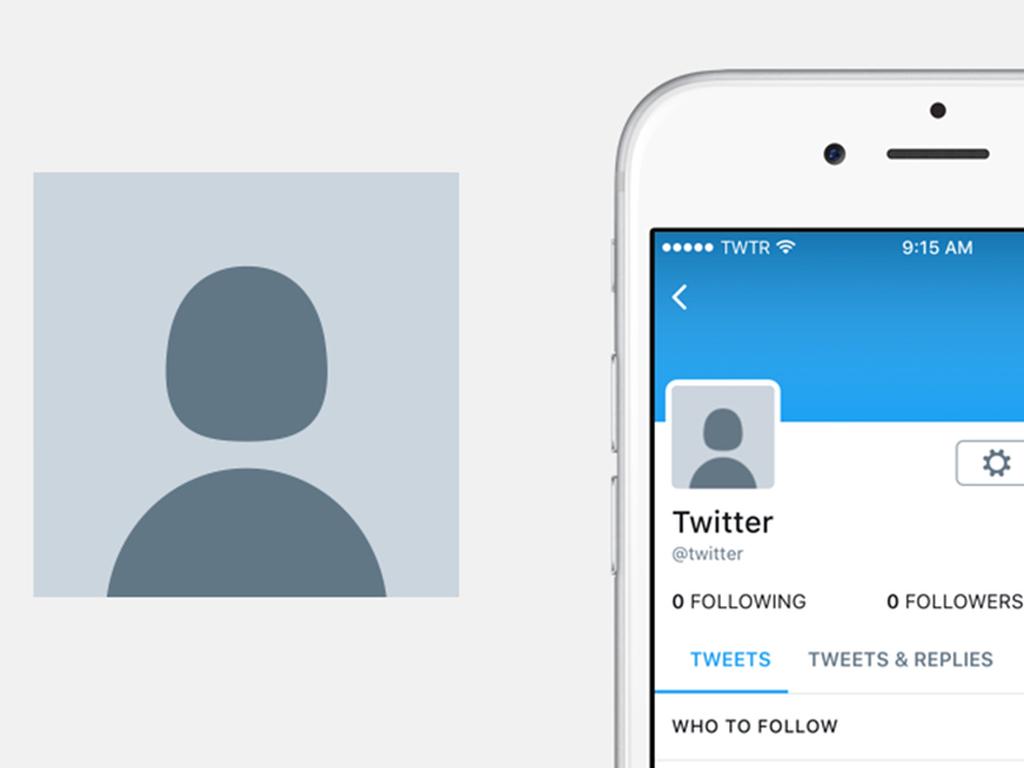 Your profile picture is the first impression that you are going to give your potential followers. It takes not even one second for someone to decide if they're going to check out our Twitter profile or not based on their profile picture. If you're using a Twitter profile for your personal brand, then we recommend that you use a professional profile picture with a natural pose.
If it is your business's Twitter profile, then include your logo in the profile picture. Avoid adding any words to your profile picture, as nobody will be able to read them. The ideal image size for your profile picture is 500 x 500 pixels.
Another thing to consider when analyzing Twitter's follow back ratio is that personal accounts tend to have a higher ratio in comparison to business accounts. This is because people feel more compelled to return the favor to a fellow human being, and not a company.
Cover Image
Your cover image needs to have a positive impact on your potential followers and relate directly to your brand or image. The ideal image size for your cover image is 1500 x 500 pixels, which is plenty of space to include all the information you need to about your company, and why people should be following your profile.
Bio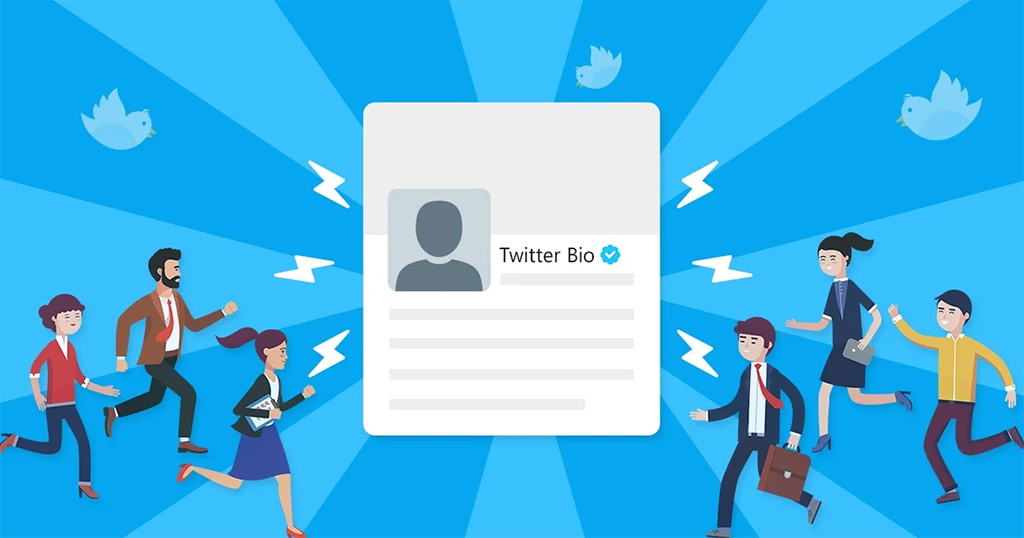 Writing an engaging bio should be your number one priority when managing a Twitter account. Most people don't follow someone that just has random stuff in their bio, which is why making sure you include the right information is really important. Describe yourself, include your credentials, and remember don't be shy.
Following/Followers Ratio
Remember, it's important to keep your following number as small as possible when you're growing an audience. When you follow somebody, that person feels appreciative that you have followed them, but they might also check out how many other people you are following at the same time.
This means that if you are following a lot of other people as well, this gesture won't have as much impact, because it would just be a drop in the bucket. Make sure that the number of people you're following is relatively small, so that each one adds value to the person you're reaching out to.
It's also important to make sure that your account always has less people you're following than the number of those that are following you. As always, getting the balance right is the way forward, but generally speaking we believe that you should avoid following more than 1000 accounts. On the other side of this, you need to be following at least a couple.
Pinned Tweet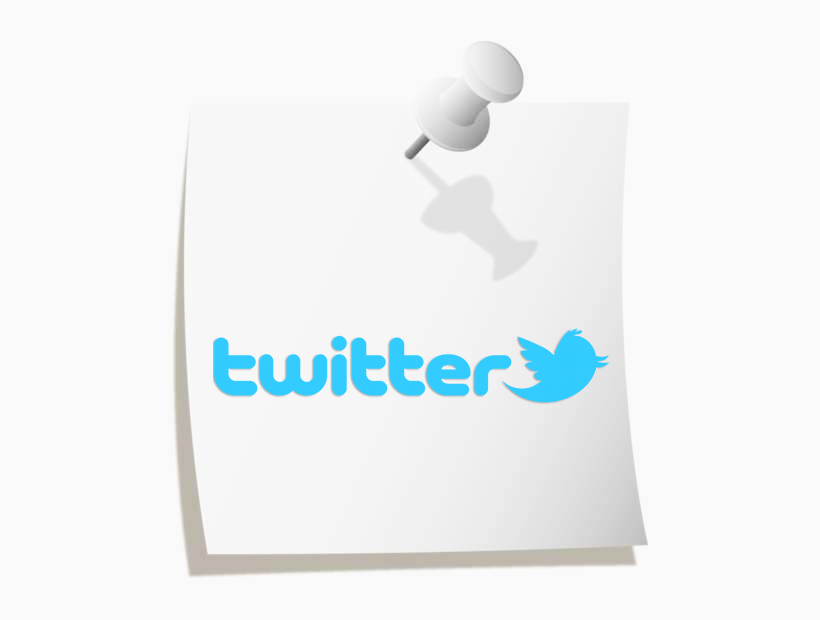 When you pin a tweet to the top of your feed, it gives your potential followers the opportunity to see what kind of category your tweets fall into, to determine whether they think they're going to like your content or not. Also, make sure that you pin tweets that have done the best, as people will be more likely to follow you if they can see your popular tweets.
As long as the tweet that you are pinning has been popular among your existing followers, and is relevant to your niche and industry, then it's going to serve you really well.
Last Five Tweets
Sometimes, pinning your favorite tweet is not enough to convince someone to follow you. We suggest featuring your last five tweets, where they will be able to see how often you share content, and the topics of your tweets in general. Of course, we recommend that you leave tweets at the top that represent your account the best and have a high level of engagement.
URL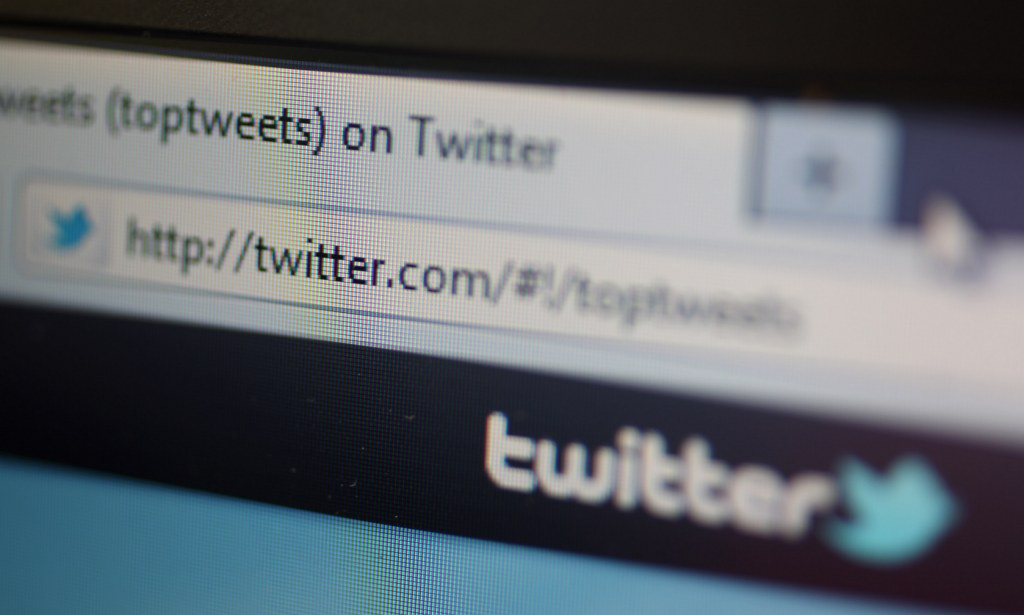 Just like Instagram, you are able to include a URL on your Twitter bio and deciding which link to include is pretty important. Of course, if you are a brand, you will probably want to include your website link, so making sure that your website is up to scratch is essential to turning potential followers into paying clients.
If you haven't updated your website in a while, you might want to think about doing this, so that it accurately reflects your brand's persona in general. The last thing you ever want to do is redirect potential followers to a website that hasn't been updated in a while.
Localization
Last but not least, you need to think about including your location and knowing how this determines how other people see you on Twitter. When you show your location, you are able to attract people who are interested in businesses in that area, which is great if you are a local business is trying to drum up more exposure.
Filtering Factors
Now that we have talked about all the different factors involved in how your Twitter profile looks to potential followers, let's talk about some other factors as well. Remember, we mentioned above that if you're not following the right audience, they aren't going to want to interact with your content or follow your Twitter profile.
This is why it's so important to filter who you follow and do this the right way. Of course, you can do this manually, which is going to take up quite a bit of your time, or you could make the most of a growth service like Twesocial. Here at Twesocial, we can implement advanced filtering techniques to ensure that you connect with the ideal audience for your content.
We work with sophisticated software that works out who is going to be interested in your content based on your niche, and who isn't. This way, we are able to filter out unwanted accounts, and focus just on those that are going to want to hang around your account for a while. Let's take a look at a few factors we consider:
Profile picture and cover image
Follower count
Tweet frequency
Negative/spammy words on bio
Find Your Target Audience
With our advanced filters, you will be able to evade unwanted accounts, and find targeted accounts for your content. Twesocial is a growth service that has these filters built in, so that you can attract targeted, real members of your ideal audience to your Twitter feed automatically.
Why Having a High Follow Back Ratio is Important
As long as your follow back ratio is high, you will get more followers for your Twitter profile. With this in mind, what's the Twitter follow back ratio average?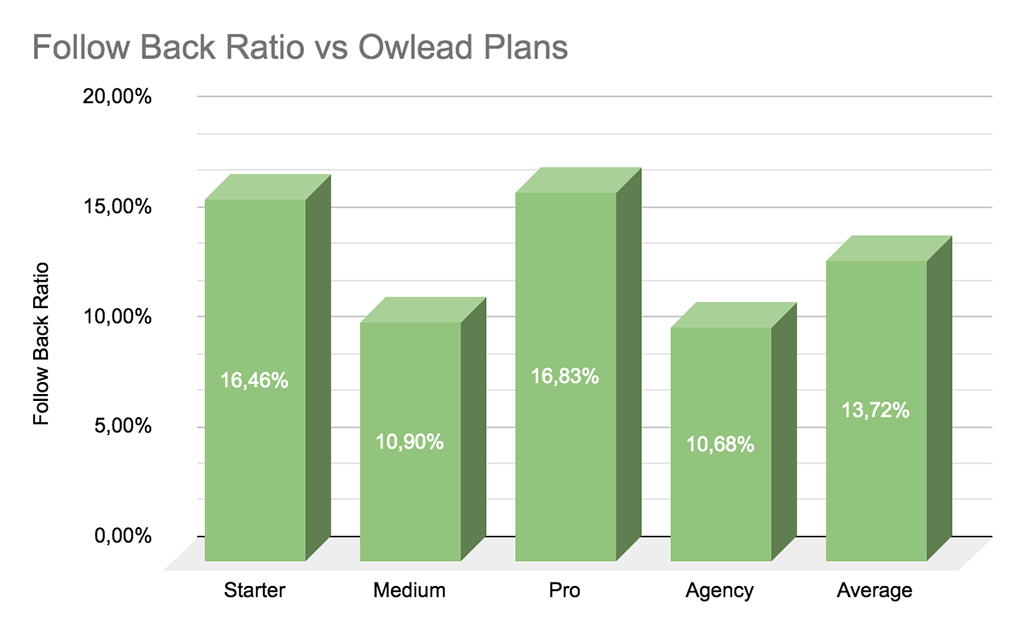 Highest Follow Back Ratio: 37.95%
Average: 13%
Lowest: 2%
As you can see, there is a wide margin between the highest follow back percentage, and the lowest follow back percentage. This is due to the wide range of factors that determine this. If your follow back ratio is less than 5%, then you need to rethink everything about your Twitter profile, especially your filtering criteria.
If it is between 5% and 10%, you still need to consider your filters, and what you can change. If it is between 10% and 20%, you are doing really good, and any improvements you make from here on out will only need to be minimal.
Lastly, if your follow back ratio is greater than 20%, you're doing amazing, and you don't really need to improve too much. Remember, you can rely on us for the growth service side of things, so that you can take care of that follow back ratio and put more time and effort into your tweets. Good luck!